Wesley Alumni Association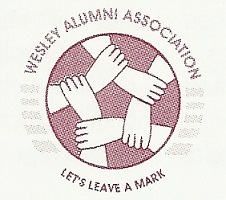 The Wesley Alumni Association (WAA) was formed in the year 2007 with the initiatives taken by Dr. N. Vijayan, the then President of Meston Education and Development Association (MEDA), Rev. Fr. Lourdusami Susai, Present MEDA Secretary, Mr. J. Jayamani, the then Headmaster of the School and Mr. Aaron David, an alumnus of 1941 Batch SSLC and the support extended by the 1979 Batch of Wesley Higher Secondary School. The aims and objectives of the Wesley Alumni Association are the following:
Unite and animate all former Wesley Students to rediscover their potentialities.
To have close fraternal relationship with Wesley School, Chennai.
Co-operate and help in the growth and development of the school.
Help to promote the welfare of the present and former Students of this institution.
To grant stipends, scholarships, studentship and other allowance, concession and gratuities to deserving scholars, students and other candidates.
WAA is registered under the Tamil Nadu Societies Registration Act, 1975 and under Section 12A of the Income Tax Act, 1961, as a Charitable Trust.
Major ES Daniel Gunanidhi, IAS (Retd) is now the Patron of the Wesley Alumni Association. Rev. Fr. Lourdusami Susai is the Counsellor and Mr. Samson Manuel is the present President of WAA. Mr. P. J. Jaidev and Mr. M. Vinayagam are Vice-Presidents of the Association. Mr. V. Dipson Roy, the Headmaster is the Secretary and Mr. K Panneerselvam is Joint Secretary of WAA. Mr. E. Natesan is the Treasurer of the Association.
Life Membership Fee is Rs.1000/-.
Wesley Alumni Association requests all the Wesleyans, who are spread all over the Globe, to become Members of WAA and also donate generously for carrying out various infrastructure development projects for the School, taken up as part of Bicentenary Celebrations. This will go a long way in maintaining the glory of our Great School and motivate to perform better in imparting quality education to the current and future students.
All contributions made will be eligible for deduction under Section 80G of the Income Tax Act, 1961 vide Order No. DIT(E) No.2(645)08-09 dt.13.03.2009 issued by Directorate of Income Tax (Exemptions), Chennai.
The contributions may kindly be made thro Cheque / DD drawn in favour of: "Wesley School Bicentenary Account"
Indian Bank, Clock Tower Branch, Chennai

Payments can also be made online to: Account No. : 6668556476
IFSC Code No. : IDIB000C038

Contribution made will be eligible for deduction under Section 80G of the Income Tax Act. While making payments, kindly inform us your contact details clearly so that we can send Official Receipts for the payments received. Please send all your communications addressed to:

Wesley Alumni Association
C/o Wesley Higher Secondary School
No.10, West Cott Road
Royapettah, Chennai 600 014

Email: wesleyhss200@gmail.com
Ph: 044-28589010