Contribute : CSR in School Education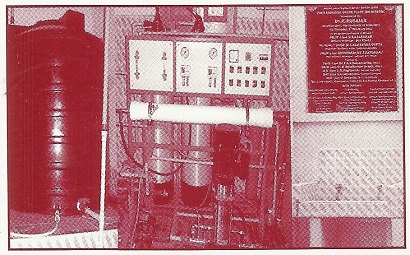 RO Plant installed for Drinking Water by Lions Club
The Vision of Wesley Higher Secondary School is to promote overall development of students irrespective of socio-economic conditions. As a Government Aided School, majority of our present day students are from economically weaker sections. Our dedicated teachers strive to mould these students to face the challenges in this era of competition.
We request the kind participation of like minded and socially conscious Corporate Bodies to support us in our Vision and adopt Wesley Higher Secondary School as one of the educational institutions to execute the Corporate Social Responsibility (CSR) initiatives. The volunteers of the Corporate Bodies are also welcome to associate with our School for upskilling our Students in the following areas:
Personality Development and Soft Skills Development
Motivating in the areas of Science & Technology and Mathematics
Impart knowledge in Financial Literacy
Enhancing General Knowledge
Assist to excel in the fields of Arts and Sports
Counseling for career growth, etc.
The Wesley School, which is nearing the Bi-Centenary Year in 2018, is also in need of material and financial resources for augmenting and improving its old infrastructure. Apart from the proposed construction of Bi-Centenary Building for providing better class environment to the students, the following are some of the priority requirements:
Replacement of Old Benches and Desks in existing Class Rooms
Renovation and Repair of Roof of 12 Class Rooms
Improvements in Science Lab
Additional computer systems and related accessories
Concrete flooring of the School Quadrangle
Constructing a stage in the open ground for conducting School Assembly and Functions
Financial Contributions made will be eligible for deduction under Section 80G of the Income Tax Act, 1961 vide Order No.DIT(E)No.2(645)08-09 dt.13.03.2009 issued by the Directorate of Income Tax (Exemptions), Chennai.
We solicit the support of Corporate Bodies in the above activities as part of CSR initiatives.
For your valued interaction with our School, you may kindly contact:
The Headmaster Wesley Higher Secondary School No.10, West Cott Road Royapettah, Chennai 600 014 Ph: 044 - 2858 9010 Email: wesleyhss200@gmail.com